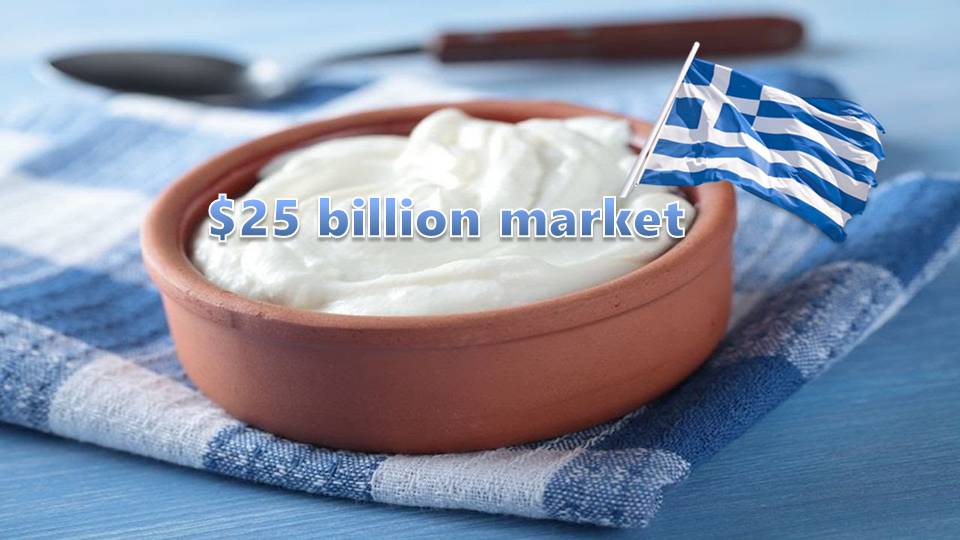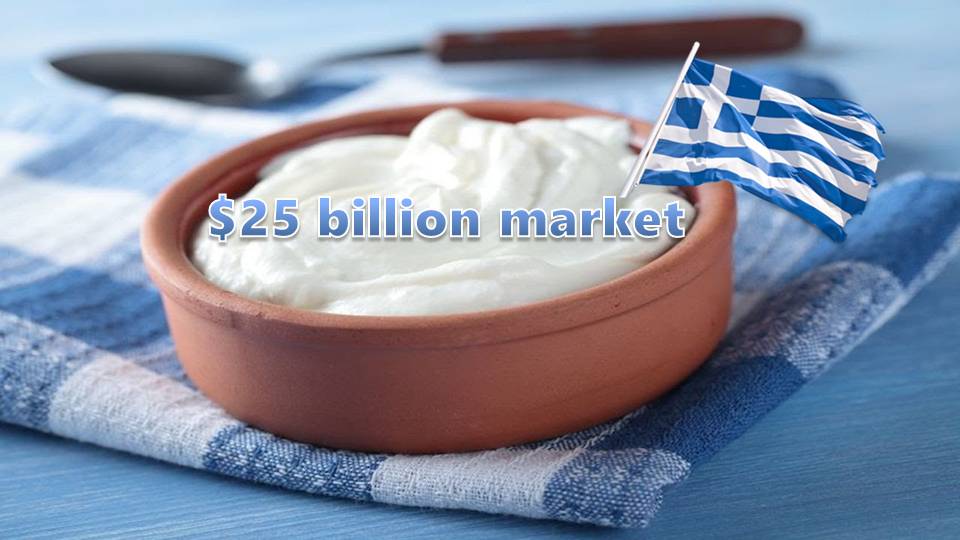 The global yogurt market is projected to exceed $70 billion by the year 2020, driven by growing consumer desire for convenient and health promoting products. The market is also favored by the increasing popularity of yogurt as a functional food.
The market's split is: Europe 39%, Asia/Pacific 28%, North America 15%, South America 13% and MEA 5%.
The rapid growth, is attributed primarily to the advent of functional products, with characteristics such as low-sugar, low-fat, low-cholesterol and favorable impact on digestive health. Among all functional foods, yogurt and particularly Greek Yogurt is considered, besides its mouthful texture and taste, the ideal medium for delivery of beneficial functional ingredients.
Greek yogurt is one of the most popular dairy products across the globe. It is prepared through the straining process in order to separate the yogurt from the excess watery whey and it is therefore known as strained yogurt as well. The straining process makes the yogurt much thicker and creamier as compared to the regular or traditional yogurt.
Greek yogurt's thick and creamy consistency, along with its health benefits have made it very popular in recent years. Greek yogurt is marketed as a natural food that offers nutritional value and as a healthy snack that can be consumed at any time of the day, either with meals or as a meal replacement.
Greek yogurt contributes significantly to the growth of the global yogurt market. This is mainly attributed to its benefits, such as higher protein and lower carbohydrates values, compared to the traditional yogurt.
Greek yogurt is a continuously evolving product category. It soared from 4% of the U.S. yogurt market in 2008 to 55% in 2016. Over 40% of Americans prefer Greek yogurt and the U.S. was the only country whose citizens named it as the favorite variety.
The Greek yogurt is the highest growing product category today among others, including regular yogurt and yogurt drinks and it also holds the largest market share in terms of revenue, following traditional yogurt in the overall yogurt market.
The demand for Greek yogurt is expected to increase in the next years, because of the increased preference on new products with variety of flavors, such as blueberry, vanilla, honey, chocolate and the super-foods lines development.
Health claims like higher protein content and relatively lower fat and sugar contents than conventional yogurt, have enhanced the popularity of Greek yogurt. Since, this yogurt variety is manufactured by the repeated straining of the regular yogurt most of the lactose (sugar) is eliminated.
The global Greek yogurt and Greek type yogurt market is currently exceeding $25 billion and analysts forecast a CAGR of 8.85% during the period 2017-2021.
Global Greek Yogurt Market Segmentation
Product Type: On the basis of product type, the global Greek yogurt market is segmented into regular Greek yogurt and non-fat Greek yogurt, which is made from skimmed milk. Owing to increase the consumption of fat free and healthy products, non-fat Greek yogurt products are gaining increasing popularity among the consumers.
Distribution Channel: On the basis of distribution channel, the global Greek yogurt market is segmented into supermarket/ hypermarket, grocery stores, convenience stores, and online retailing. In terms of revenue contribution, supermarket / hypermarket is expected to hold the highest share among all the other segments. However, online retail for global Greek yogurt market witnesses a steady growth. This is attributed to increasing visibility of Greek yogurt especially through online retailing.
Geographically: Global Greek yogurt market is segmented into North America, Latin America, Western Europe, Eastern Europe, Asia-Pacific and MEA. North America and Western Europe are the two most profitable markets. In North America around half of the yogurt sold is Greek yogurt.
Global Greek Yogurt Market Dynamics
The increase in health consciousness among consumer has led to a shift in eating preference towards healthy and nutrition food products. Availability of high nutritional value, which includes high protein, probiotics, vitamin such as vitamin D, B12, minerals such as potassium, iodine and calcium in Greek yogurt is the key factor that has led to increased adoption of Greek yogurt among consumers and thus, fuelling the global Greek yogurt market growth.
Increasing application of Greek yogurt is another growth driver for Greek yogurt market, since it is used for various applications in different countries around the globe.
Greek yogurt is also a good option for the consumers who have slight lactose intolerance, since in the straining production process much of the lactose is removed. This makes it preferable among such consumers globally.
Global Greek Yogurt Market Players
Key players operating in the global Greek yogurt market are Chobani, Stonyfield Farm, FAGE, Danone and General Mills. Owing to have strong distribution and marketing strategies companies are able to meet the increasing demand for global Greek yogurt. Authentic however Greek yogurt is only exported by few Greek companies such as Mevgal, Delta, Olympus and Krikri.
Conclusion
Evolving consumer tastes, preferences and product differentiations are some of the major reasons there are a lot of innovations, in terms of formulations and packaging, driving the Greek yogurt market.
Interest has spread beyond the US and Europe to the rest of the world and has inspired a new generation of high-protein origin yogurt products. Continuous innovations, introduction of new flavors, novel packaging, new technologies and product lines extensions have contributed to the Greek Yogurt Phenomenon.
Greek yogurt manufacturers are heavily focusing on innovative formulation, positioning and packaging to address the growing need of consumers who find Greek yogurts to be more filling and nutritious over other alternatives.
Opportunities & Proposal
Quite a few dairy companies around the globe are keen in negotiation collaboration agreements with Greek manufacturers, in order to acquire knowhow and R&D knowledge on authentic Greek yogurt production. This is an excellent opportunity for all parties, as it can only result in a win-win business relationship.
DASO possesses unique expertise in assisting companies to overcome obstacles and succeed in negotiations of collaboration agreements, through an integrated approach, that links strategy, knowhow and implementation. As strategic partners, we assist our customers to effectively manage change, to pursue a strong and profitable market position and to generate premium equity returns for their shareholders.